One of my Facebook friends commented on how challenging life has been recently, more than normal.   His mother, who is an astrologer, noted several major planets in opposition, square to each other and "transiting" (which is supposedly shifting on August 26th). I don't understand all that, but have to admit the "degree of difficulty" feels like someone turned up the volume a few extra degrees!

Have you felt this too?
I found this video helped me relax back into a more useful outlook.  Maybe it'll help you too.
The reality is attitudes are truly contagious! Is yours worth catching? Take a 3 minute break to learn how to stay positive, regardless of what's going on externally, because our attitude not only impacts our own happiness but impacts the happiness and success of all the people around us…family, friends, and peers at work.  These keys also happen to be the formula for inner peace!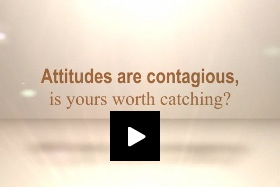 Copyright © 2005 – 2014 Simple Truths, LLC
Watch Attitude is Everything
If you like this video clip, I encourage you to

share it with those you haven't connected with in awhile

and join me on my mission to empower and inspire millions of people around the globe to experience greater everyday inner peace.

At the end of this video you'll see simple instructions on how you can help.

Together we can spread words of Encouragement, Inspiration & Empowerment

one video at a time

… and wouldn't you agree our world could use a little more "Positivity" and "Inner Peace" these days!

Together we can make a difference…


Here's To Your Inner Peace,

Mary
Facebook Comments